The Garden
The Brooksvale Organic Garden is over a half acre of land located at the north end of the barnyard next to the horse paddock. It has evolved through the years with help from Boy Scout Eagle projects, Farm Camps and Friends of Brooksvale Park volunteers. Currently the garden is overseen by a part time gardener and volunteers from the community. Visitors can stroll through the many garden paths and explore the large variety of flower and vegetable beds; both traditional and as Enos Brooks might have had when he owned the farm in the 1850s.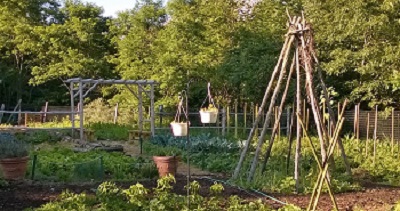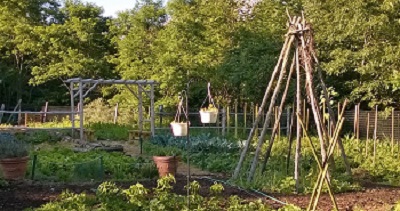 Rest in the cool shade under the cedar trellis and cherry trees. The handcrafted wood benches, trellis and garden shed were all built with recycled park logs. Birdwatchers were treated to hummingbirds buzzing through the sprinklers and sampling sweet nectar.
Bluebirds made their homes in boxes as swallows competed for space. In a nearby tree nested a family of northern orioles. Wrens seemed to sing all day as finches and other acrobatic birds raced to the sun flowers. This year we were graced by a visit from a few scarlet tanagers.
2015 produced 830 pounds of fresh vegetables which was distributed to local soup kitchens, food banks, homeless and senior centers. Vegetables included green beans, radishes, tomatoes, peppers, cucumbers, potatoes, onions, garlic, turnip, lettuce, kale, cabbage, broccoli, cauliflower, corn and zucchini, yellow, acorn and butternut squashes. Strawberries, cantaloupes, raspberries, blueberries and blackberries sweetened tables as well. In side the rock wall bed was a culinary and medicinal herb garden.
This summer, park campers learned Native American gardening methods, assisted in chores, made scarecrows, milled a fallen park log and created a garden bench with the wood.
The park staff is grateful to all volunteers and visitors for creating and maintaining this small gem.